The CDUs continuously copy the active route from the FMC. If both FMCs fail, the CDUs retain flight plan waypoints except for conditional waypoints, offsets, and holding patterns.

Waypoints on the copied route can be referenced by either their identifier, or latitude and longitude.

New waypoints can only be entered in latitude and longitude.

The alternate navigation system operates from three CDU pages:

• ALTERNATE NAVIGATION LEGS

• ALTERNATE NAVIGATION PROGRESS

• ALTERNATE NAVIGATION RADIO.




ALTERNATE NAVIGATION LEGS PAGE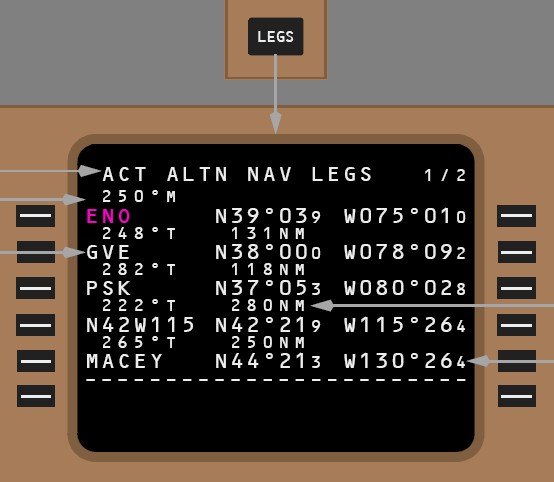 Waypoint Identifier



Displays the waypoint by name or latitude/longitude. Valid entries are waypoint names in the route or latitude/longitude for new waypoints.




ALTERNATE NAVIGATION PROGRESS PAGE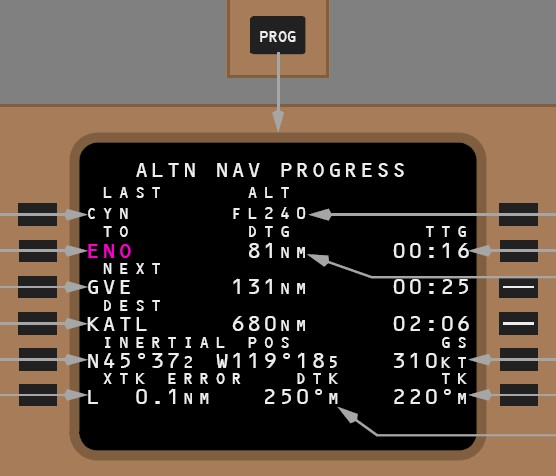 Destination (DEST)



Any waypoint on or off the route can be entered. Time and distance data temporarily displays for that waypoint.

Display options:

• Destination airport identifier; distance and time to go along track to the destination airport.

• Entry of an existing flight plan waypoint (identifier or latitude/longitude) causes the line title to change to ENROUTE WPT. Time and distance to go are from present position along the flight plan route to the entered waypoint

• Entry of a waypoint not in the flight plan causes the line title to change to DIR TO ALTERNATE. Time and distance to go are from the present position direct to the new waypoint.




Track (TK) and Desired Track (DTK)



In relation to the true or magnetic reference selected on the HEADING REFERENCE switch, displays airplane track/desired track angle.




ALTERNATE NAVIGATION RADIO PAGE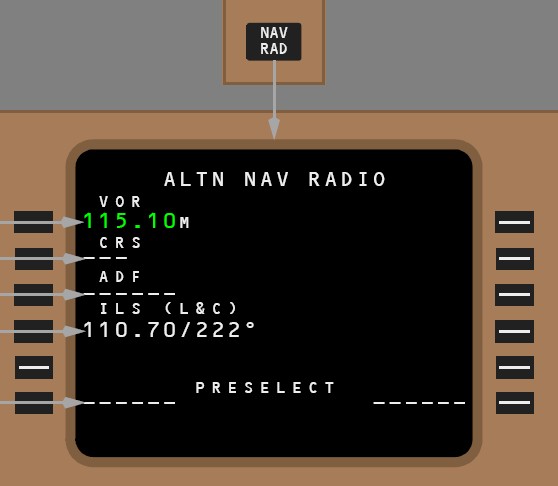 If both FMCs fail, access is by the NAV RAD key on the left and right CDUs only.

• Left CDU tunes the left radios and center ILS

• Right CDU tunes the right radios




ILS



• If the ILS was in autotune at the time of the FMC failure, the frequency and course are automatically copied to the ALTN NAV RADIO page.

• The ILS frequency displays PARK when no frequency is tuned. Deleting the ILS frequency parks a tuned ILS.

• ILS course and frequency must be entered on the left, center, and right ALTN NAV RADIO page.

• The line title is L & C on the left CDU and R on the right CDU.

• DME data for the ILS displays when the EFIS control panel ND mode selector is set to APP




Preselect



Allows entry of two separate preselected frequencies and/or frequencies/courses.

Valid entries are any of the entries that can be made on the other lines.