Downlinks

are data link messages transmitted to a ground station. Requests for data and reports of FMC data are two types of downlinks. Requests are made manually by the flight crew. Reports can be made manually or may occur automatically.



Uplinks

are messages transmitted to the airplane. Most uplinks require manual selections by the flight crew. Some uplinks are input automatically.




CDU Data Link Status



Data link operation is verified when the correct line title displays above the prompt.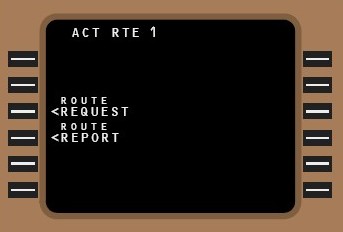 When the communications function is unable to prepare FMC downlinks (data link system not operating), the CDU data line (REQUEST and REPORT prompts) on CDU pages change to FAIL, NO COMM or VOICE and the line title changes to DATA LINK.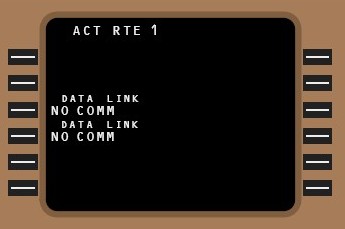 •

FAIL:



The AIMs data communications management function is inoperative,

or

Both the VHF and SATCOM data radios have failed.


•

NO COMM:



VHF and SATCOM data radios are operational but not available

VHF data radio has failed and the SATCOM data radio is not available, or

SATCOM data radio has failed and the VHF data radio is not available.


•

VOICE:

All available radios are operating in the VOICE mode.




Radios supporting data link operations can be reconfigured by the crew through the MFD COMM function.




The data link status also displays on the FMC COMM page.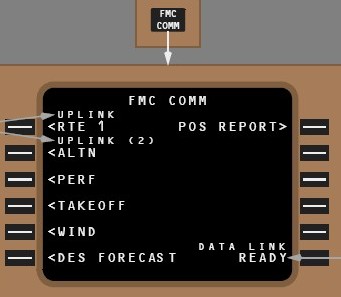 General Status



General data link system status is displayed against LSK 6R. It can be:

• READY
• NO COMM
• VOICE
• FAIL




Uplink Status



The page line title displays UPLINK when an uplink message is pending and all preprocessing is complete.

Preprocessing of uplinks ensures prerequisite data is available before the uplink message can be selected. Examples of preprocessing include:

- RTE ALTN, ALTN LIST, PERF, TAKEOFF, and WIND uplinks are held until route activation or modifications are complete.

- Subsequent uplinks of the same type are held until previous uplinks are included or discarded by the flight crew.

- TAKEOFF uplink is held until gross weight is entered, a pending PERF uplink is included or discarded, or a takeoff runway is entered.

When both ALTN and ALTN LIST uplinks are pending, (2) displays to the right of UPLINK in the line title.

The EICAS message •FMC displays whenever any UPLINK message is pending.