Traffic Alert and Collision Avoidance System II Version 7.1



Since its introduction in Europe in 2000, TCAS II version 7.0 has been the subject of monitoring. In the course of analysing recorded and reported events, many cases were found in which pilots did not respond correctly to the "Adjust vertical speed, adjust" Resolution Advisories (RAs) – the vertical rate was increased rather than reduced.

Additionally, there have also been a number of cases in which TCAS II version 7.0 failed to reverse an RA when two converging aircraft remained within 100 feet. This type scenario would occur when one aircraft is not following the RA or is not TCAS II equipped and follows an ATC instruction or performs an avoidance manoeuvre based on visual acquisition.

EUROCONTROL identified these two safety issues and initiated the development of version 7.1 with following solutions:



"Level off, Level off" RA



To prevent incorrect pilot responses, in version 7.0 the "Adjust vertical speed, adjust" RAs has been replaced by a new "Level off, level off" RA which requires a reduction of vertical rate to 0 ft/min. The level off is to be achieved promptly, not at the next standard flight level (e.g. FL200, FL210, etc.).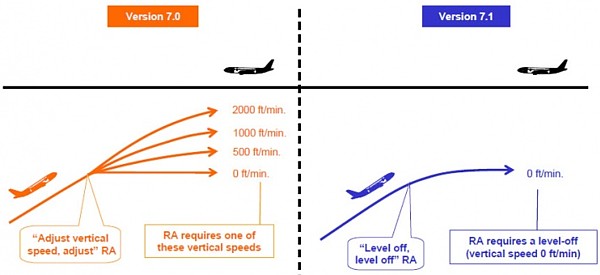 Improved Reversal Logic



A feature has been added to the TCAS II version 7.1 logic which monitors RA compliance in coordinated encounters (i.e. when both aircraft are TCAS II equipped). When it is detected that an aircraft is not responding correctly to an RA, a reversal RA will be issued to the aircraft which manoeuvres in accordance with the RA. In single equipage encounters (i.e. when only one aircraft is TCAS II equipped), version 7.1 will recognise the situation and will issue a reversal if the unequipped threat aircraft moves in the same vertical direction as the TCAS II equipped aircraft.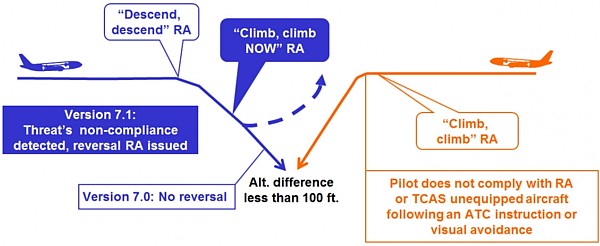 European Commission has implemented

a rule mandating, from 1 December 2015, the carriage of ACAS II (TCAS II) version 7.1 within European Union airspace

by all civil aeroplanes with a MTOM exceeding 5700 kg or authorised to carry more than 19 passengers.

For more detailed guidance download this

FAA booklet on TCAS II version 7.1

as it provides the background for a better understanding of the TCAS II by personnel involved in the implementation and operation of TCAS II. This booklet is an update of the TCAS II Version 7.0 manual. It describes changes to the CAS logic introduced by Version 7.1 and updates the information on requirements for use of TCAS II and operational experience.