A310 OPERATION IN AREAS CONTAMINATED BY VOLCANIC ASH


FCOM>>Procedure and Techniques >>Inclement Weather Operation


Download as a PDF File






Ground Operation:



Operations from or to airports contaminated with volcanic ash should be avoided. If unavoidable then following is recommended:

• Parking:

- Aircraft exposed surfaces, inlet and exhaust areas should be clear of ash.

- Clean ash within 25 feet of engine Inlets.

- Before engine starting, dry motor at max motoring speed for 2 minutes.

- Do not use APU for air-conditioning and electrical supply. Restrict APU for engine start only, as required.


• Taxi:

- If possible avoid taxi in contaminated areas and tow the aircraft to clean areas for engine start and takeoff preparation.

- If taxi is unavoidable then use minimum thrust required for breakaway after brake release. Throttles at ground idle when rolling.

- Keep bleed valves closed.

- Avoid sharp or high speed turns where drifting contaminants are present.

- Following a backtrack on runway; allow ash to settle before takeoff.


• Takeoff:

- Enter runway while rolling and slowly (without hesitation) advance throttles to takeoff power.

- If ATS is used then delay triggering the Go Levers to prevent engine spool up while the aircraft is still at low speed.




Flight Operation:



• Avoid areas of known volcanic activity by using Met reports or ATC information. Volcanic ash does not provide any weather radar return.

• If a volcanic eruption is reported during flight then stay on the upwind side of volcanic dust (by at least 20 NM) if possible.

•

Indications of Volcanic ash cloud encounter:



. . . . . . .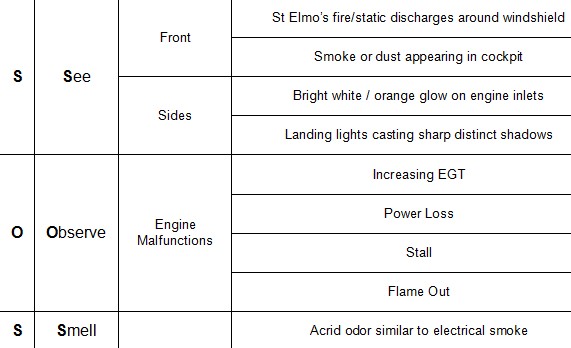 •

Avoidance of Volcanic ash cloud encounter:



- Notify ATC and Initiate a 180 degree turn.

- Crew Oxygen Masks ON / 100%

- Passenger oxygen as required depending on contamination.

- Disconnect A/THR.

- Decrease Thrust to Idle (conditions permitting)

- Ignition to CONT Relight.

- Engine + Wing Anti ice ON and Air Conditioning to normal flow. (Bleed air extraction significantly increases engine surge margin and slightly decreases engine acceleration).

- Start APU.

- Monitor Airspeed indications (use Unreliable Airspeed Indication Checklist if needed).

- Monitor Engine Parameters especially EGT exceedance tendency.

- To prevent exceeding EGT limits it may be necessary to consider a precautionary engine shutdown and in flight restart.

- For engine restart note the following:

o Successful start may not be possible unless out of ash cloud.

o Switch off engine and wing anti ice before restarting.

o If first attempt is unsuccessful, successive attempt should be made immediately.

o Upon restart, engine acceleration may be very slow. Do not misinterpret it as a malfunction.

o When clear of ash and engines restarted, avoid rapid throttle movement if possible. With compressor and/or turbine blades eroded, increase in fuel flow and EGT may be noticed.




Reporting:



• When operating in areas affected by volcanic activity, be familiar with ICAO Special Air Report of Volcanic Activity and reporting procedures.

• If volcanic ash cloud is encountered, notify ATC (conditions permitting) with information concerning Location, Altitude and Drift direction of ash cloud.




Approach and Landing:



• Visibility for approach and landing may be reduced due to abrasive effect of ash on windshields and landing lights.

• During landing, limit the use of reverse thrust as reverse flow may impair visibility. If max reverse thrust is anticipated then apply it upon main landing gear touchdown.

• Braking efficiency may be degraded due to ash layer on the runway. For landing performance consider

wet runway in case the ash is dry

and

runway with slush in case the ash is wet

.

• For taxi, limit engine operation to ground idle as much as possible. Limit taxi to an area where tugs can be used to move around the airport.