Route Legs Page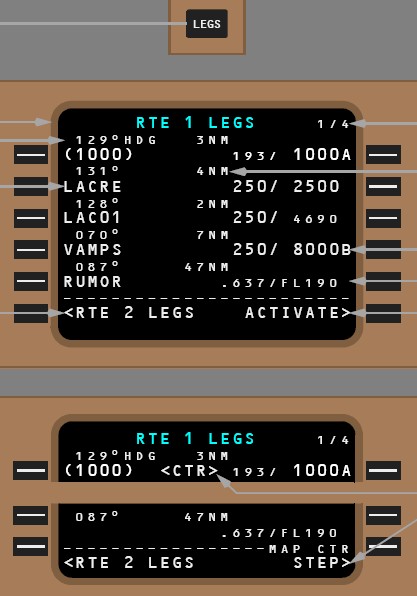 Leg Direction



Leg segment data in line title, apart from displaying courses, heading and tracks also displays:

• Arc radius in miles, ARC, and turn direction (example: 12 ARC L)

• Special procedural instructions from database - HOLD AT, PROC TURN, or PROC HOLD




Page Title



• RTE X LEGS (cyan) – inactive route

• ACT RTE X LEGS (white) – active route

• MOD (shaded white) RTE X LEGS (white) – modified active route.




Waypoint Speed/Altitude Constraints



• blank – cross at altitude

• A – cross at or above altitude

• B – cross at or below altitude

• Both – altitude block. If constraint is to cross between two altitudes when climbing, enter lower altitude followed by "A"; then, enter higher altitude followed by "B". Example: 220A240B. Reverse the order for descent.

• S – planned step climb




ACTIVATE, Route (RTE) DATA



• ACTIVATE prompt displays when RTE and RTE LEGS flight plan is inactive. It activates inactive flight plan and displays RTE DATA prompt.

• RTE DATA displays after ACTIVATE prompt pushed. It displays route data page (Page 1 shows waypoint ETA & Fuel and also Wind Prompts)

• MAP CTR STEP prompt displays when the EFIS control panel ND mode selector is in PLAN position. It changes centered waypoint on ND.

• <CTR> is adjacent centered waypoint on the RTE LEGS page.



Route Data Page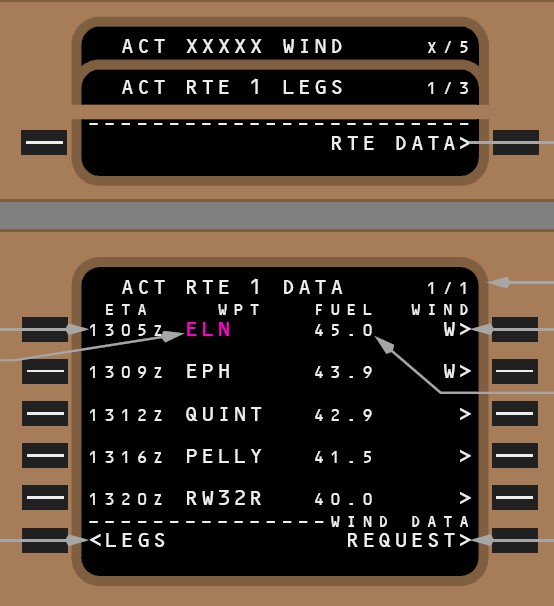 WIND DATA REQUEST: Flight crew may enter up to four altitudes on any wind page to qualify the request.

W> - winds entered

> - winds not entered.

Push – selects WIND page for the selected waypoint.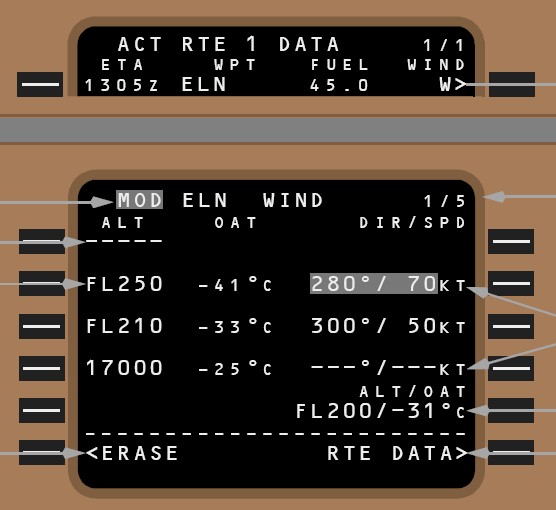 • Enter altitude or flight level for wind entries. Altitude data entry possible only on line 1L.

• Data entered on 1L displays on lines 1 through 4. Data entry is not possible in lines 2L through 4L.

• OAT entries are made using the ALT/OAT line 5R (valid entries are altitude or flight level/and OAT).

• Calculated OAT based on standard lapse rate display in small font.

• The altitude for OAT does not have to be one of the wind altitudes. The FMC uses standard lapse rate to calculate and display the temperature at the other altitudes.



Route Modification on Legs Page





Direct To And Intercept Course To



• Direct to a waypoint (enter waypoint in the active waypoint line. This also shows the "Abeam Pts" prompt to make abeam points for all bypass waypoints).

• Intercept a course to a waypoint (direct to a waypoint shows the "INTC CRS TO" option to enter the course).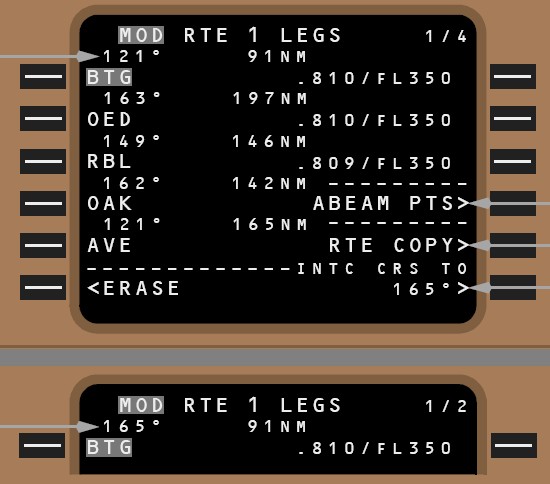 Intercept Course From



• Course outbound from a waypoint (enter waypoint and desired outbound course in the active waypoint line e.g. BTG090. This also shows the "INTC CRS FROM" option to modify the course).

• Course from Present Position P/P (course 090 deg from present position can be entered as P/P090).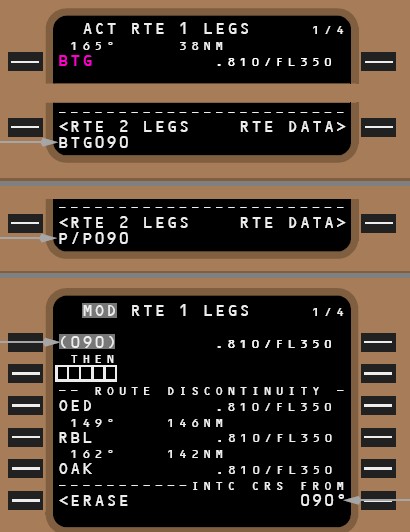 • Lat/Long Reporting points (e.g. to report crossing W144 Longitude and every 4 deg after enter W144-4 in the active waypoint line).



Route Modifications on Route Page
Airway Intercept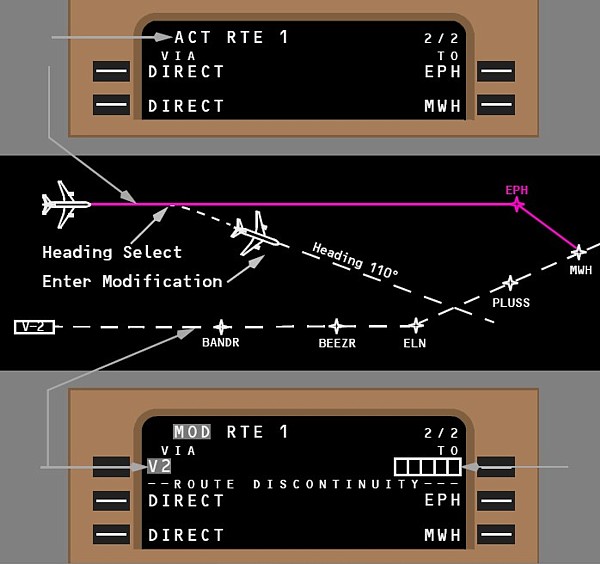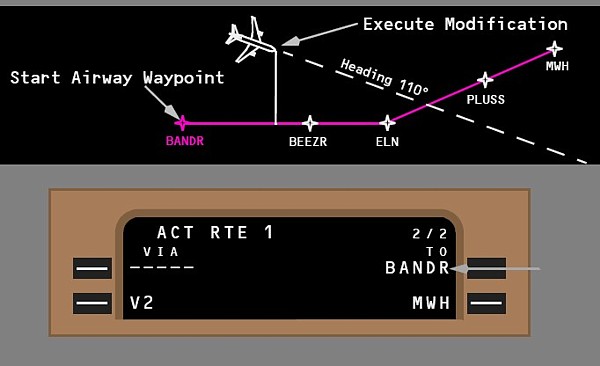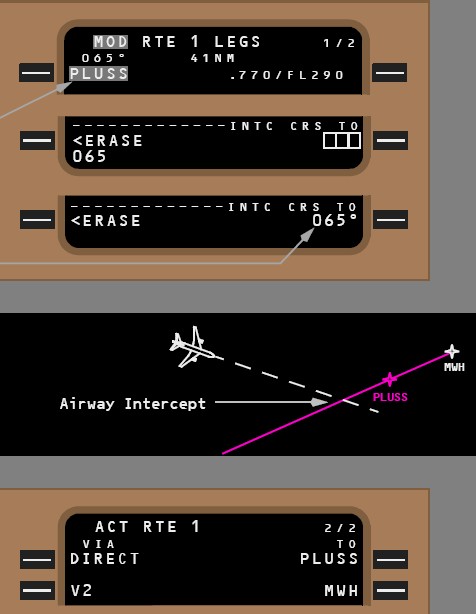 Route Offest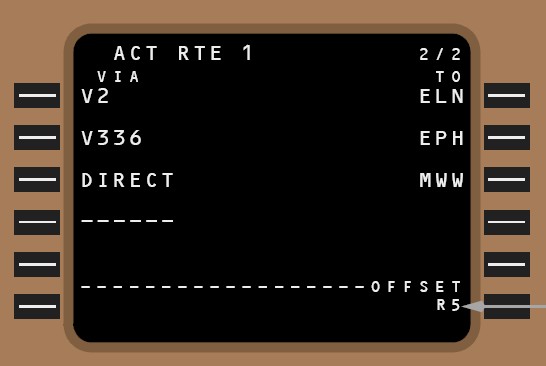 Route OFFSET (L99 or R99). Offsets can be removed by entering zero or delete.