Procedure Fix Waypoints



Runway–related fixes – waypoints located at unnamed runway–related fixes are identified by adding a two–letter prefix to the runway number. The following list is used to determine the applicable prefix:

• RX – runway extension fix
• FA – VFR final approach fix
• CF – final approach course fix
• FF – final approach fix
• IF – initial approach fix
• OM – outer marker
• MM – middle marker
• IM – inner marker
• BM – back course marker
• MD – minimum descent altitude
• A – (+ an alpha) step down fix
• RW – runway threshold
• MA – missed approach point other than RW
• TD – touchdown point inboard of RW

e.g. OM25L, MM09, IM23, RW04, RW18L.

For airports with more than one approach to the same runway, the two letter prefix may change to allow different identifiers for the same waypoint. The first letter identifies the type of fix and the second letter identifies the type approach as follows:

• C( ) – final approach course fix
• F( ) – final approach fix
• P( ) – missed approach point
• I( ) – initial approach fix
• D( ) – minimum descent altitude
• T( ) – touch down point
• R( ) – runway centerline intercept.

• ( )I – ILS
• ( )L – Localizer only
• ( )B– Backcourse ILS
• ( )D – VOR/DME
• ( )V – VOR only
• ( )S – VOR with DME points
• ( )N – NDB
• ( )Q – NDB with DME points
• ( )M – MLS
• ( )T – Tacan
• ( )R – RNAV

e.g. CI32R, PV15, FN24L.



Arrivals Page – IFR Approaches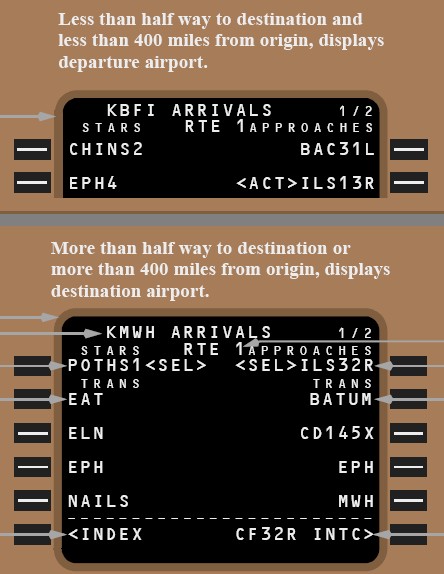 Approach Transitions (TRANS)



Approach transitions include IAFs, feeder fixes, and fixes providing routing to the FAF.

When transition not selected, approach will be a straight–in approach starting at a waypoint 4 to 8 miles outside the FAF.

Waypoint may be a charted fix or CFXXX (XXX is the runway number).

When selected, an INTC prompt is displayed for selected transition.




Final Approach Fix Intercept (XXXXX INTC)



Selecting the prompt displays a modified RTE LEGS page with an intercept course to the approach transition fix (usually the IAF) for the selected approach.



Arrivals Page – VFR Approaches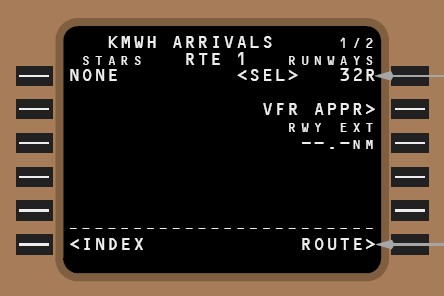 Selecting a runway allows selection of:

• RWY EXT

OR

• VFR APPR




Selecting RWY EXT (Runway Extension)



• Valid entries are from 1.0 to 25.0 miles from the runway threshold (allowed if VFR APPR is not selected).

• Makes waypoint RXYYY, where YYY is the runway; example: RX32R.

• Makes a route discontinuity before and after the waypoint.




Selecting VFR APPR (VFR Approach)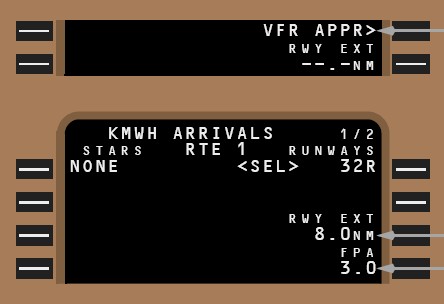 • Makes a transition waypoint, FAXXX at 8 NM and 2000 feet above the runway. RWY EXT cannot be modified in this case.

• Displays when a VFR approach is in navigation data base for selected runway.

• LNAV and VNAV guidance to the runway is available. VNAV programs arrival at the FAF at 170 knots.

• Flight path angle is displayed. Default is 3.0 degrees. Valid entries are from 2.4 to 3.7 degrees.



Approach Reference Page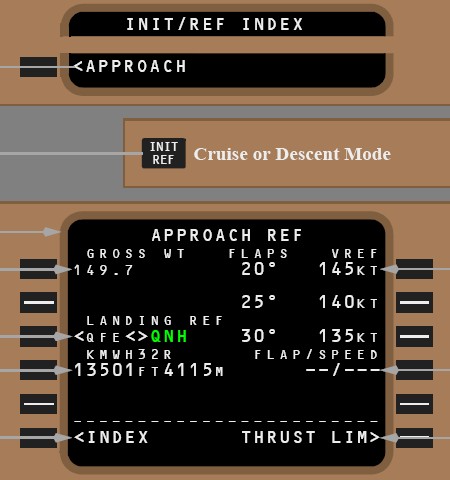 Gross Weight (GROSS WT)



FMC calculated airplane gross weight

Manual entry is allowed in case the FMC calculated gross weight is unavailable or invalid, or to allow previewing recommended approach speeds at other than the calculated FMC gross weight.

The manually entered gross weight will become the FMC calculated gross weight when a different page is selected and the APPROACH REF page is reselected.



FLAP/SPEED



The flap position and VREF speed is entered for landing. The VREF speed displays on the PFD.