The FMC computes holding patterns with constant radius turns based on current wind and FMC commanded airspeed.

With LNAV active before sequencing the holding fix, holding pattern entries are determined by the following:

• airplane track, not heading or direction from which the active route approaches the holding pattern, determines the entry method.

• the airplane flies the initial outbound leg a computed distance from the holding fix, rather than a specific time.

• teardrop entries use a 40 degree offset angle


Hold Page - First Hold



When the flight plan does not contain a holding pattern, pushing the HOLD function key displays the RTE X LEGS page with the HOLD AT line.

Entering a holding fix displays the HOLD page.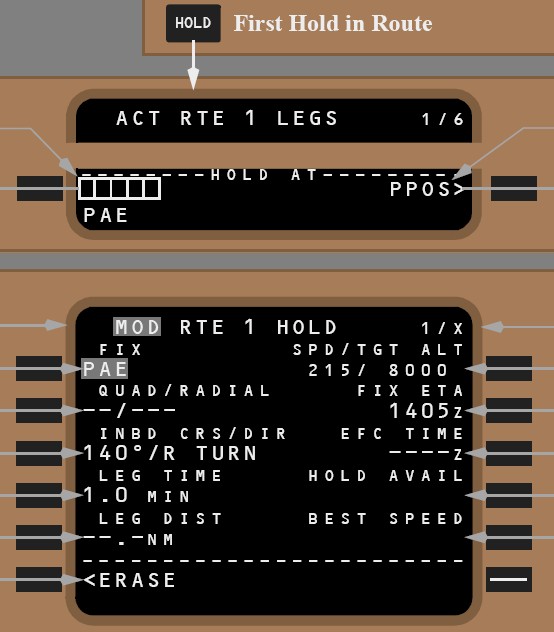 Quadrant/Radial (QUAD/RADIAL)



Valid entry is X/XXX, XX/XXX, or /XXX. Example: NW/330.

Entry changes INBD CRS/DIR to agree.




Inbound Course/Direction (INBD CRS/DIR)



Valid entry is XXX (inbound course), XXX/X (inbound course/turn direction), /X or X (turn direction).

Entry changes QUAD/RADIAL to agree.




FIX ETA



With no EFC TIME entry, displays time the airplane will next pass the holding fix.

With EFC TIME entry, displays time the airplane will pass the holding fix after the EFC time.

The FMC uses this time to calculate downtrack ETAs and fuel values based on departing the holding fix at the new FIX ETA.




Expect Further Clearance Time (EFC TIME)



Entry changes performance predictions for the route after holding.




Hold Available (HOLD AVAIL)



Displays holding time available before requiring reserve fuel to reach the destination.




BEST SPEED



Displays the best holding speed for the airplane gross weight, altitude, and flap setting (may exceed ICAO limit speed).



HOLD Page (Existing Hold)



When one or more holding patterns exist in the route, push the HOLD key to display the hold page for the first holding pattern.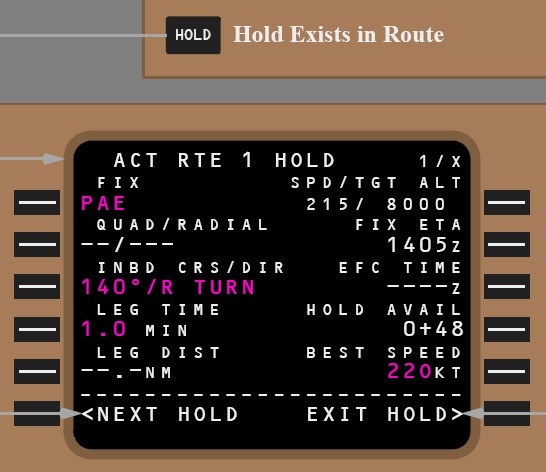 When the hold is the next LNAV event, active commands display in magenta.

New holding patterns are added using the NEXT HOLD prompt.

Most holding patterns are part of a procedure or airway and remain active until the flight crew executes an exit from holding.

This may be accomplished in one of two ways:

• on the ACT RTE LEGS page, deleting or bypassing the HOLD AT waypoint causes LNAV to command a direct to the next waypoint

• on the ACT RTE HOLD page, selecting and executing EXIT HOLD> causes LNAV to command the airplane to continue in the holding pattern until arriving at the holding fix, at which time the airplane exits the holding pattern


The FMC automatically commands an exit from some holding patterns in procedures under the following conditions:

• for instrument approach holding patterns designed as a course reversal in lieu of a procedure turn, the airplane exits holding upon arrival at the holding fix inbound. Header at 1L displays PROC HOLD

• for some holding patterns in SIDs, the airplane exits holding when arriving at an altitude. Header at 1L displays HOLD AT